WhatsApp is one of the most popular social networking platforms that exist today along with Facebook, Twitter with around 1.5 billion registered users. It has managed to stay in the business and is successfully only expanding, despite the cut-throat competition in the app market that guarantees innovative and attractive features. WhatsApp owes its success to its user-friendliness and the measures it takes to keep the user's account data safe and secure.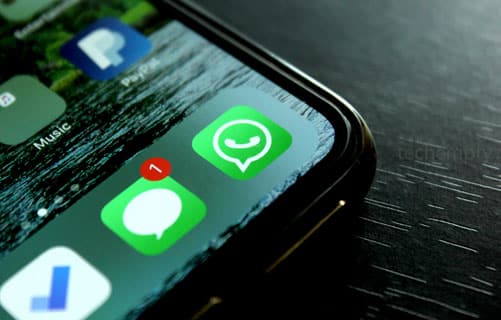 In 2018, WABetaInfo announced a news that WhatsApp was working on a feature that would allow its users to lock WhatsApp app on iPhone using fingerprint and face recognition. Before this advanced feature became a reality, WhatsApp users could only lock Whatsapp using a passcode, akin to the one they used for unlocking their home screen. But why is locking your data on WhatsApp important?
This is because as versatile a medium of communication and data sharing this app is; it is highly prone to risks of data theft, security and breach of account privacy, by those around us. WhatsApp does not require you to log in, log out, enter your registered contact details or notify you when an unidentified device log in through your phone number. Hence, you are at constant risk of being hacked and getting your privacy compromised. The only available solution to securing your WhatsApp from both, prying fingers and eyes, is to lock it by either activating the lock option in the Whatsapp application or by using third-party apps that are integrated with Whatsapp, to lock the app. Unfortunately, the pro lock apps are available for Android and not on App Store.
This article elaborates on how you can secure your WhatsApp chats and media without a third-party app.
Lock WhatsApp on iOS device without Apps 2019
This method of locking your Whatsapp is through the app itself. For this, you will have to update the application to latest version and adhere to a few simple steps.
You will first have to open your Whatsapp and open the Settings tab that is located at the end of your iPhone screen.
Then tap on the Accounts option, followed by tapping on Privacy.
You will then see a feature that says 'Screen Lock'.
When you tap on this option, you will be greeted with a toggle to active either a face ID lock or a touch ID one. The availability of the former option is dependent on your iPhone model.
Those having the iPhone X or a later phone will have the option of activating face recognition to unlock the app. Whereas those with models lower than the iPhone 8 will only have the option the enable the touch ID or password.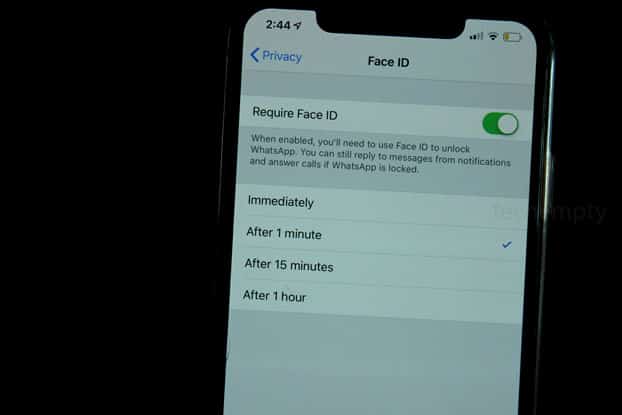 After you tap on the toggle, Whatsapp will give you an option to decide after the passage of how much time you would like Whatsapp to lock itself.
Your options will be 1 minute, 15 minutes, an hour, or immediately.
You can select the time limit of your liking and that is where your work ends, and the app's work begins.
You can test this feature immediately by exiting the app and waiting for your selected time out. When you try to re-open WhatsApp, you will most likely be asked to provide your Touch ID or Face ID to access the WhatsApp chats.
This is an easy-breezy method of locking your beloved chats and data on WhatsApp.
If you have availed the "lock immediately" option, the app will lock itself as soon as you press your home button to exit the app. This can get irksome as on exiting Whatsapp right after a task, in sheer reflex and trying to re-open the app, the app will lock itself. As a result, you will be asked to insert your selected mode of authentication time and again, even if you exited three seconds ago. That is how quick this feature is.
The shortcoming
There is a shortcoming in this form of locking WhatsApp on iPhone. You will still be able to read the new chat messages that you receive on WhatsApp through the mobile notification bar. This will happen even when the app is not in use. You will also be able to click on the message and reply to it like you ordinarily do without a lock activated for your app. However, you can extinguish this drawback by simply managing your settings on Whatsapp.
Go to Whatsapp and select settings.
Select notifications
Turn off the 'Show preview' option here
That's it. This is the best method provided by Apple to secure WhatsApp, which do not require you to hunt, install, and link a third-party app. The tricks not only save storage space of the external app locks but are also varied in their nature, which helps you choose which kind of locking method you want to use for WhatsApp. Happy Whatsapping!