How to Update Samsung Galaxy Tab 750 to Official Ice Cream Sandwich
We the Indian Gadget freaks are a bit unfortunate to grab the latest versions on the day-1 on Samsung Galaxy Tab 750 release. It's been 9 months for the SG Tab 750 to get updated with ICS. The long wait is over now. Actually Galaxy Tab 750 was launched in the month of August 2011 with Android 3.1 Honey Comb OS. But Google announced the availability of Android 4.0 in November; no sooner Samsung included Tab 750/10.1 in the list of devices available for Android 4.0 ICS update seriously without any Timeline.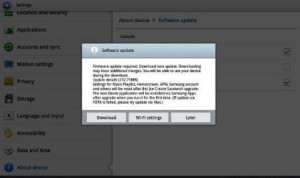 Update Samsung Galaxy Tab 750
In fact Android ICS comes forward with new Touch Wiz UI along with the redesigned user interface. The users can sense and experience the enhanced and ease of Multi Tasking, faster browsing, fashionable data management and importantly rich notifications screen and settings adds the extra color to the device. Here it comes up with yet another exclusive feature of face unlock. And the main thing is Samsung has reported it will get new eBook App in the Samsung Apps after this update.
You can update with Android 4.0.4 ICS firmware through the manual procedure also. The entire update file size is 232.71 MB and it's available for download via Over the Air (OTA) update. Especially for the users who cannot download via OTA, the exuberant updates can be sorted of to the device via Samsung KIES. Right after the update the users definitely feel proud of the new look the Samsung Galaxy Tab 750 Android 4.0 ICS has acquired.
So now you are well aware of the Android 4.0 ICS update, the next question generates in your mind is How to Upgrade SG Tab to ICS ? Here is the complete solution as stated earlier updation can be done in two ways
• Via OTA
To update Samsung Galaxy Tab 750 via Over the Air, all that's you need to do is bonding your device to a working Wi-Fi network and then on your carry out through Menu > Settings > About Tablet > System Updates and then click on Check Now. You will be connected to the Samsung servers for reply and a pop will emerge. Now click on Download, when it completes downloading process. The final step is to click on Install Now to apply the updates.
• Via Samsung KIES
If you have no availability of free Wi-Fi network, don't get saddened still there is a possibility to update Galaxy Tab 750 using Samsung KIES PC suite but this will also need an internet connection. To carry out the process the very step you need to do is to connect your Tablet with PC using the USB cable and open Samsung KIES. It will automatically notify you about the update and your job is to follow the onscreen instructions to apply the available updates .Don't forget to back up your data using Samsung KIES and can be easily restored after the update with just a click.
After the Galaxy Tab 750 has been updated to Android 4.0 ICS, to verify the built number, version by following Menu > Settings > About Tablet. Do you have any Queries on How to update Samsung Galaxy Tab 750 to ICS (Android 4.0), don't hesitate to ask us.