The beta version of Prisma performed very well in the Android Market, and the final official version is creating a lot of buzz in the tech world. With the increase in the number of users, Prisma servers are loaded with lots of requests every second. On July 24, the official Prisma App was launched. The people are allowed to download Prisma Android App from the Google Play Store. Unfortunately, the expected number has been crossed (of course a milestone) and too many people are using it actively after the launch. The common error that most of the users are now getting is "Prisma is over capacity".
Prisma is Over Capacity Error
I'm one among the active user of Prisma Artwork App. I'm much impressed with their iOS version. There are absolutely no bugs like over capacity error, no problems saving the edited Prisma photo it to local drive, etc. But, in my view, there are lots of things to do with Prisma Android App.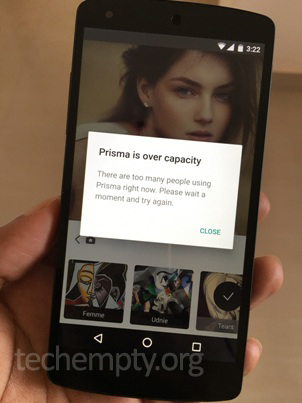 I have tried for about 20 minutes to save the Prisma edited photo. Of course, there is an option to save the photo automatically, but I can't see the final picture without sharing it with someone. The user should have a choice whether to share or just to save the last edited Prisma photo.
Coming to the error message "Prisma is over capacity", Prisma is not yet responded to the issue officially. As of now, the only thing to do is to wait until the problem stabilizes. Since the app released recently, the team of Prisma should scale up their servers based on the users who are actively spending on their app. Since the artwork needs Internet, every request should be processed online. So, there no other option except to wait to use Prisma Android Application.
The exact error while applying the Prisma Artwork.
Prisma is over capacity. There are too many people using Prisma right now. Please wait a moment and try again.
Update: Prisma just pushed a notification that they are facing few technical issues with their application. This notification clearly shows that Prisma.AI is fully aware of this problem. It is not like "Prisma is over capacity" error. Here is the exact text of what they sent to every user.
Prisma has been experiencing technical difficulties. Sorry for any inconvenience caused. It'll be fine soon <3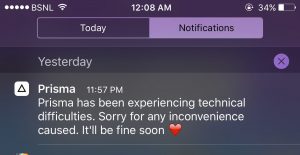 They posted an update regarding the same on their Facebook page. Also, the team mentioned about their upcoming mind blowing features.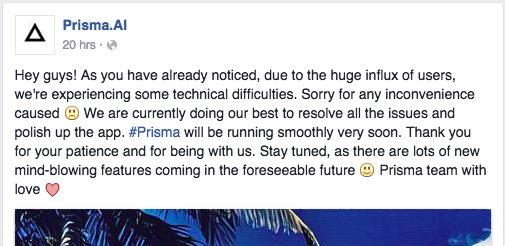 Hope the team will rectify this issue very soon. If you don't know what the Prisma App is, then go ahead and install it right away on your Android or iOS Smartphone. Meanwhile, Prisma Labs might resolve the issue "Prisma is over capacity."