This tutorial is all about showing you the installation and running procedure of Android latest KitKat 4.4 version on your PC without the concern of your Smart Phone as it is the regular way to do it.
For installing the software we need to have the software right?
So first let's have it downloaded. You can download the Android SDK bundle which contains what we need . It's about 490MB and don't need much time either. As the file starts downloading, brace yourself to enjoy the experience of upgrading the Android version. Depending on the internet speed the file dances with time to get downloaded, so after you once get it downloaded and look for it you will find a WinRAR file waiting to get extracted. Get it extracted and open the folder and run your eyes to find SDK Manager.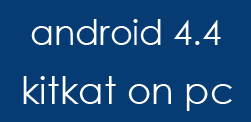 As you open the SDK Manager, you will be opened to a dialogue box showing all the current versions of Android.
Select the tools by clicking them. By default they say that they got installed but I would like to recommend each one of you to do the run each of them again. Now after the installation finishes, now look for the Android version. As this is the tutorial for Android KitKat 4.4 on PC, I would prefer to go with Android 4.4. If you don't want to go with me, you can simply look for your favourite version by scrolling down. In the Extras section, select all which is highly recommended which helps to play with few add-ons. Now finally select Install Packages to start download of all the packages.
After the completion of download, go to SDK manager and select Manage AVD from Tools and you will find an option named as New to your right hand side and name the Android virtual device which is followed by the device name.
Enter your desired name and select all the options exactly as mentioned in the below screenshot.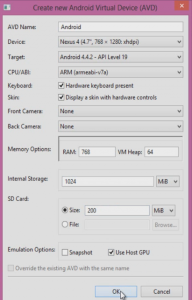 Now finally select Launch button by selecting Wipe User Data option. It will take few seconds to bring you Android 4.4 OS dashboard. Refer the video below to understand better.
Feel free to contact us if you face any issues.