Honda one of the leading and world renowned car manufactures of Japan has earlier this month their latest car known as Honda Mobilio. The car being launched under the MUV segment (multi-purpose utility vehicle) is one of the first such car being launched by Honda in this segment. Market analyst and company spokespersons have said that this car is being launched keeping in mind the fact that the demand for multi-purpose utility vehicle has raised drastically in the recent year.
This car is also being launched in the market to give competition to the multi-purpose utility vehicle by Maruti that is Maruti Ertiga. Till now this car has got the sales monopoly in Indian market in the MUV segment, thus to end its monopoly Mobilio is going to play a key role.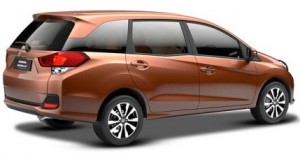 Key features of Honda Mobilio
I-VTEC engine – the I-VTEC engine being provided by the company is one of the most trusted and loved engines from Honda. Its performance and fuel consumption is unmatched from any other engine.
Mileage – the mileage being provided in the petrol variant is of 17.3Kmpl and that in the diesel variant is 24.2Kmpl. This kind of mileage in an MUV is surely very good and unmatched by any other.
Seating – this car provides space for 7 people so now even if one has a big family, they can think of buying this car.
Safety – this car is not just good with its performance, but also for its safety feature. Honda Mobilio has dual airbags along with ABS (anti braking system).
Exteriors
Honda has worked hard on giving its new car, a new and attractive look. The front, mostly resembles to that of Honda Brio, but the headlights which have been installed are much more curvaceous, it also has a macho looking newly designed bonnet along with the muscular Hondasymbolon the front. Other than that it has got OVRMs which are electrically controlled and adds to the advantages of this car.
It also has a bumper which has been designed with a sporty look in mind, it also has door handles which are of body color and last but not the least the different colors which can be done on the car is all that a customer would want.
Interiors
Now, after the exteriors come the time for interiors as we can see the hard work and dedication on the exteriors the same can be seen in the interiors. Honda has tried to give a whole new look to its interiors which can be seen as soon as we enter the car. The seat covers have been made from fine fabrics with a classy finish which can win anyone's heart easily.
The dash bodes have also been made with a woody finish which goes perfectly along with the interior. All new entertainment system has been introduces in it which has got a touch interface, it has got sockets for other appliances and lastly the leg room and head space provided are very good and the leg room can be adjusted for comfort by adjusting the positions of the seats.